About Us
Sometimes you want to scream and shout! Doesn't anyone care? Do they not see what it is all about?  With "My Shirt Matters" you can show what you care about without the screaming and shouting. 
About us
My Shi(r)t matters
Your Shit Matters for my shirt matters.
Our goal: Give everyone a t-shirt by which they can show what they care about.
Show your personality, your interests, your frustrations and your concerns. Create awareness by showing it to your family, friends, your loved ones and your surroundings.
Whether it's about nature, climate change and pollution. Whether it's about autism, someone dear to you, a charity or even your favorite sport team?
Your shit does matter … so let it be seen.
"

I always wondered why somebody doesn't do something about that. Then I realized I was somebody.

Lily Tomlin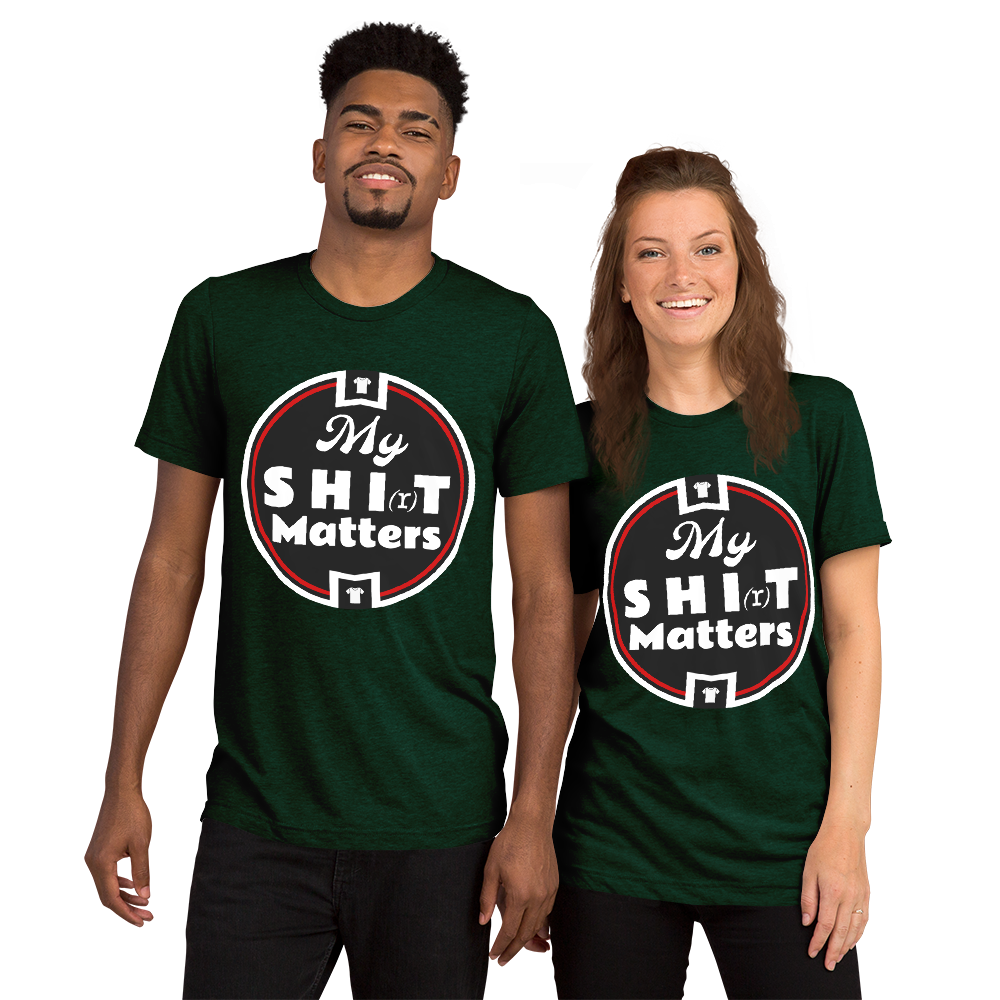 Let people now – get them talking
Why "My Shi(r)t Matters"?? 
Animal cruelty, general pollution and global warming. Looking arround makes you see there are some wrongs in the world. People do notice, but often think they can't change a thing about it.
They think "That's just how the world works"… And they are wright. That is how the world works. If no one cares, if no one acts, then that is just how the world works. But if you change how you act, you can change how the world works.
Stop standing on the side line. It is time to act! Show people that you care!
About us
Additional information
No product sold in our store is mass produced. Everything we sell is printed on demand. Nothing is produced unless it has already been purchased by someone.
We have printers and suppliers in the EU, US and UK. All orders are processed and shipped in the same region.
​The paint, ink and printing methods are among the most ecological and efficient within the sector. The social working conditions are continuously monitored and are optimal.
We raise awareness about a number of social themes and support people who take actions for what they believe in.
Still Have Some Questions Left?
Feel free to contact our support team to learn more about the services and products provided by us!
I really enjoy this type of shirts. I'm a guy who like a funny tee, but I pick a shirt with a message and deaper meaning any day.
— Walter Hayes
These t-shirts and hoodies are great for when we go out in public… spreading the word!
— Walter Hayes